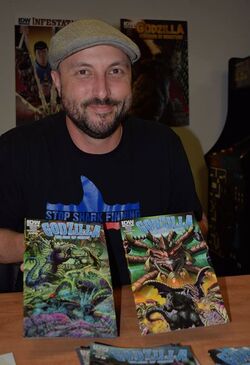 Chris Mowry
is a comic book writer and letterer. Mowry is a big fan of Transformers,
tokusatsu
, and Godzilla.
Work
Chris Mowry has written and lettered countless comics for IDW, some of his work consisting of Godzilla and Transformers comics. Some Transformers comics he has written include Transformers: Destiny, The Reign of Starscream, and Tales Of The Fallen, and some he has lettered include Megatron Origin #2 and Transformers: Prime.
Mowry has been involved with all six IDW Godzilla series. He has written Godzilla: Legends #4 and Godzilla: Rulers of Earth, lettered Godzilla: Legends, Godzilla: Kingdom of Monsters, Godzilla: Ongoing, and Godzilla: Rulers of Earth, has made the collection design of Godzilla: The Half-Century War and Godzilla: Legends, and has been a creative consultant on Godzilla: Legends and Godzilla: Ongoing.
Gallery
See Also
External Links
REL
IDW
Ad blocker interference detected!
Wikia is a free-to-use site that makes money from advertising. We have a modified experience for viewers using ad blockers

Wikia is not accessible if you've made further modifications. Remove the custom ad blocker rule(s) and the page will load as expected.