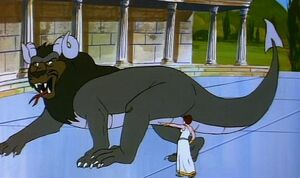 Stats
Height: 49 meters
Mass: 2,000 tons
Powers
Flames: The Chimera can release a deadly stream of fire from its maw.
Size Change: The Chimera can grow from human-sized to Godzilla-sized.
Weaknesses: Will be destroyed if it enters water, transforming into smoke.
Appearances
First Appearance: Godzilla: Island of Lost Ships (1978)
History
Trapped on a small island for thousands of years, the Calico discovered the island on the one night it became visible again. The wicked sirens that inhabited the isle wished to hold their guests prisoner for all eternity, but Godzilla had something else on his mind. The Chimera was accidentally released and the two began to do battle, but the Chimera was no match for Godzilla's might and was pushed back into its prison. Later, after capturing most of the crew, the sirens all combined into one to awaken and control the Chimera. When the monster gripped Godzooky, Pete managed to awaken Godzilla who lashed out with ferocious anger. Knowing the Chimera couldn't beat it alone, the sirens joined with the Chimera to increase its power. This strength made no difference to Godzilla, who tricked it into falling off the cliff and diving into the sea. The beast was destroyed and the crew members awakened.