Breeder Beast
Comments

0
1,282articles on
Wikizilla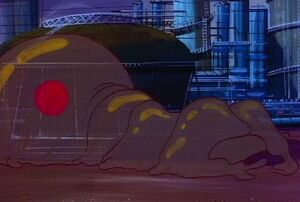 The Breeder Beast (A.K.A. Giant Living Breeder Reactor Gone Wild) is a gelatinous amoeboid creature that appeared in The Godzilla Power Hour.
Stats
Length: 300 feet
Weight: unknown, variable
Mass: variable.
Powers and abilities
The Breeder Beast has a protoplasmic mass can stick to and pull objects into its body.
The Breeder Beast can extend numerous psuedopods to grab things.
The Breeder Beast is really good at throwing objects.
The Breeder Beast is an adept swimmer
Any material that can be ingested or absorbed into its nucleus is used to increase the Breeder Beast's size, mass, and presumably powers as well.
Weakness
Fire and explosions could set off an explosive reaction until the creature became in control of it's reactions, enough damage to the nucleus will cause the raw material in the breeder beast to crystallize out of the creature.
Appearances
The Breeder Beast only appeared once and never again in The Godzilla Power Hour episode 11 "The Breeder Beast".
History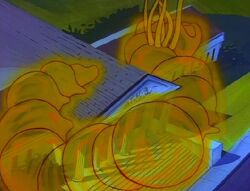 An oil spill mutated a small single-celled organism, somehow creating a creature that had a living breeder reactor in it. This Breeder Beast began absorbing any material it could find. The crew of the
Calico
happened upon the creature and called Godzilla, whose fire breath ignited pockets of unassimilated matter in the creature, causing several small explosions within it and forcing it to withdraw to safety. Later it attacked a natural gas plant and later still, Washington D.C. The military and
Calico
crew made numerous efforts to stop the creature without explosives, fearing that explosions within the creature at this late stage could possibly cause a nuclear explosion. The creature went to the U.S. Mint and absorbed the gold, silver, and precious metals in it. Afterwards Godzilla attacked it with his laser eyes, despite warnings not to, but instead of the feared nuclear reaction, the beams only harmed the creature. Realizing that it was now in control of its internal reactions, the crew, through Godzooky, instructed Godzilla to fire his lasers at the nucleus. The materials that the Breeder Beast had consumed crystallized and were expelled from the creature's mass, which itself began to diminish, eventually leaving behind only the original microorganism.
Fighting Power
It's big, it can absorb anything, and its amoeba-like form allows it to squeeze through nearly any opening. It is also a fair grappler, able to extrude pseudopods and draw other objects or creatures into its body. Despite still being unicellular at such great size, it is somehow smart enough to throw objects. A very powerful creature, but if its nucleus is exposed to energy beams, it fissions and reverts to its original form.