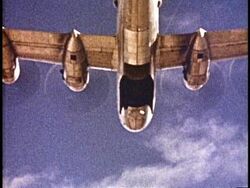 Boeing B-29 Superfortress is a American heavy bomber built and manufactured by Boeing. It flown primarily by the United States during World War II and the Korean War. It appears as a stock footage in the American version of Rodan.
History
Stock footage of an actual B-29 Superfortress was shown during the opening credits of the American version of Rodan.
Comics
Ishiro Serizawa's father was present in Hiroshima on August 6, 1945 and witnessed the atomic bomb being dropped on the city. Serizawa survived, but he also witnessed the awakening of the creature Shinomura due to the radiation released by the bomb.
Trivia
TOH
VEH
Ad blocker interference detected!
Wikia is a free-to-use site that makes money from advertising. We have a modified experience for viewers using ad blockers

Wikia is not accessible if you've made further modifications. Remove the custom ad blocker rule(s) and the page will load as expected.