Beppu (別府市,   Beppu-shi?) is a city located in Ōita Prefecture on the island of Kyushu, Japan, at the west end of Beppu Bay. It is featured in the 1994 Godzilla film, Godzilla vs. SpaceGodzilla.
History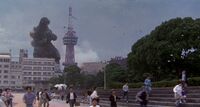 After coming ashore in Kagoshima in pursuit of SpaceGodzilla, Godzilla traveled through various locations, including Beppu as he approached Fukuoka, leaving a trail of destruction in his wake.

Ad blocker interference detected!
Wikia is a free-to-use site that makes money from advertising. We have a modified experience for viewers using ad blockers

Wikia is not accessible if you've made further modifications. Remove the custom ad blocker rule(s) and the page will load as expected.