Battle Spirits
(バトルスピリッツBatoru Supirittsu?)
is a trading card game by
Bandai
.
Information
On March 7,
2015
, a "TOHO KAIJU" set of
Battle Spirits
cards that includes various monsters created by Toho was released in Japan.
The 4-card booster packs cost ¥100 and the 8-card booster packs cost ¥200 plus tax.[1] A new booster pack containing Godzilla 2016 and other new cards was announced for release in August 2016.[2]
Appearances
Monsters
Mothra Leo (Imago, Rainbow, Aqua, Light Speed, Armor)
King Ghidorah (1991, 1998, 2001)
MechaGodzilla (Fake Godzilla, 1974, 1993, Super, 2002, 2003)
Destoroyah (Juvenile, Aggregate, Flying and Perfect)
Biollante (Rose, Final)
Battra (Larva and Imago)
Weapons, Vehicles, and Races
Locations
Gallery
Artwork
Cards
BSC19
BSC26
Other
Videos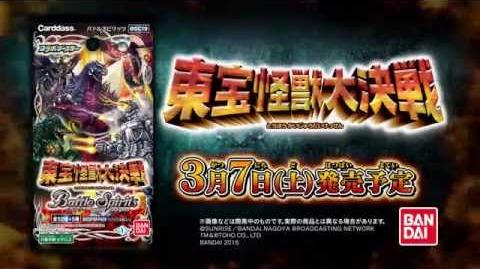 Trivia
In 2016, a collaboration booster pack revolving around the Ultraman franchise was announced for Battle Spirits.
External Links
References
This is a list of references for Battle Spirits. These citations are used to identify the reliable sources on which this article is based. These references appear inside articles in the form of superscript numbers, which look like this: [1]
Ad blocker interference detected!
Wikia is a free-to-use site that makes money from advertising. We have a modified experience for viewers using ad blockers

Wikia is not accessible if you've made further modifications. Remove the custom ad blocker rule(s) and the page will load as expected.