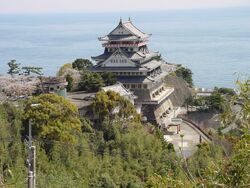 Atami Castle
(熱海城Atami-jō?)
is a
pagoda
in Atami, Shizuoka, first built in the 1500s. It first appeared in
King Kong vs. Godzilla
.
History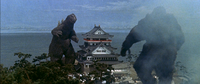 King Kong and Godzilla find themselves separated by the Castle, and they storm towards it, attempting to trade punches at each other until the top of the castle is broken clean off. Godzilla then pushes against the building, causing most of it to collapse. Kong then throws himself and Godzilla off the cliff next to the castle, and fall into the ocean below.

Gallery
Ad blocker interference detected!
Wikia is a free-to-use site that makes money from advertising. We have a modified experience for viewers using ad blockers

Wikia is not accessible if you've made further modifications. Remove the custom ad blocker rule(s) and the page will load as expected.