The 
Arc de Triomphe de l'Étoile
is a famous landmark in
Paris
,
France
. It was built to commemorate the victory of France over Russia in the early-1800s. The Arc de Triomphe is featured in the
1968
Godzilla
film
,
Destroy All Monsters
.
History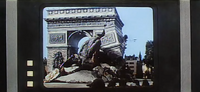 After being mind-controlled by the Kilaaks, Gorosaurus attacked Paris, burrowing through the ground. He surfaced almost exactly next to the Arc de Triomphe, and it collapsed as he climbed out of the ground.

Comics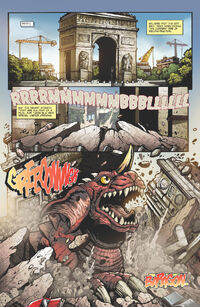 Baragon surfaced in Paris underneath the Arc de Triomphe, destroying it. The Counter-Kaiju Reaction Forces deployed Kiryu to stop Baragon. After a fierce battle, Kiryu subdued Baragon and airlifted him to the Monster Islands.

Trivia
REL
LOC
Ad blocker interference detected!
Wikia is a free-to-use site that makes money from advertising. We have a modified experience for viewers using ad blockers

Wikia is not accessible if you've made further modifications. Remove the custom ad blocker rule(s) and the page will load as expected.